Ah, botox. I'm nearly 34, getting married next year and watch more Kardashians that I would care to admit,  so it was obvious that I'd start thinking about Botox at some point.
Over the last few weeks, I've pulled myself back from the brink of booking an appointment and had a total rethink, deciding that actually, no, I'll save it until I'm older, or perhaps, I'll never feel the need to do it all.
A good friend ( with fabulous skin, I must say) was horrified when I told her of my plan for injectables and pointed me in the direction of this really candid Courtney Cox interview, where she explained why she was letting her fillers dissolve and more importantly how she ended up getting too much plastic surgery in the first place, beginning with a bit of botox here and there.
Botox looks perfectly good on many people, some of my friends have it and I probably know heaps of people who look fresh and lovely that have quietly popped to a clinic for some in their lunch break, but my problem isn't with anybody else doing it.
If botox makes you feel better about yourself and more confident in your own skin then do it. Honestly, if Mrs Botox Doctor could tell me I would look like Khloe Kardashian and not Kylie then I might have the full suite of surgeries done.
What's holding me back, however, isn't just that it might make my face look weird, it's about chasing wrinkles and trying to defy ageing, which we all know doesn't work out all that well in the end.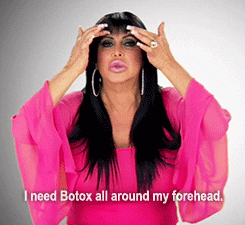 Botox looks fine on 30 something skin that probably doesn't really need it anyway and I'm no doubt I'd love it at first, but what about when the laughter lines inevitably get deeper and more numerous? When I lose volume around my cheeks and my pesky small lips become even smaller?
Yes, I would love to smooth out the laughter lines around my eyes but what's so bad about looking like a woman in my 30's? I am a woman in my 30s.
So, what instead of Botox?
I'm lucky in that my skin is pretty good.
Perhaps I'll read this blog back in ten years and laugh ruefully as the only signs of my advancing years right now are laughter lines and a few faint crows feet.
Generally, though, I've noticed the skin on my forehead looking a bit rougher since I burned it slightly on holiday and I suffer from blocked pores and more spots that I think I deserve.
Until recently my beauty regime was quite basic, incorporating a cream cleanser, retinol eye cream that I wasn't using religiously, plus a lovely Ren night cream.
A few weeks ago, however, I stumbled across Caroline Hirons blog and it's changed my regime completely – opening my eyes to a brave new world of acids and retinols that I didn't even know existed.
I'll do a full blog on the new regime soon but wonder if I hadn't been awakened to the skin brightening and line reversing powers of these new products, whether I'd have already disappeared down the Botox rabbit hole.